Sea Point on Trinity Beach Holiday Apartments feature beautiful tropical landscaped gardens with a large saltwater pool, spa bath and BBQ facilities.

The BBQ area features separate kiddies wading pool and fountain which makes it a fantastic place to spend time with family or friends in a relaxed and casual environment.

There is an elevator to all floors and secure undercover parking. This property is wheelchair friendly.


Facilities On Offer
Resort style saltwater pool
Spa & BBQ facilities
Lush tropical gardens
Waterfall feature on pool
Kiddies wading pool, fountain
Tour Desk
Elevator to all floors
Secure undercover parking
Onsite management
What Our Clients Say?

We are proud of the Certificate of Excellence 2017 awarded by TripAdvisor and the Guest Reviews Award 2017 from booking.com.

Our guests made this happen through their many reviews.

We couldn't have done it without you. THANK YOU!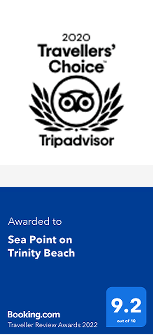 "PICTURE PERFECT . . . By this I mean the apartment looked just as great as the pictures they use on line to advertise which was brilliant. The apartment was modern, clean and a great size. "

"LOVELY ACCOMMODATION . . . Beautiful accommodation, extremely clean rooms, great pool with toys for the kids with shade I highly recommended and will be staying here next visit."

"WONDERFUL PLACE . . . Very clean and nice. We had 2 bed/2 bath for 3 nights. Direct beach access. Hair driers were both broken, called the manager and they were replaced when we returned in the afternoon."

"PARADISE . . . We loved Seapoint. The view, the beautiful decor, the waves crashing, the ocean breeze, the gorgeous bathrooms, the awesome pool, ample airconditioners and ceiling fans."